H I S T O R Y
Medieval Art was formed in August 1996. The original line-up was: Antti Ahonen (Vocals, Bass), Ari Haapanen (Guitars), and Panu Lavonen (Drums).
Before Medieval Art, all the guys had played in other groups. Antti and Ari used to play in a heavy metal-cover band called Escalade, which broke up after a few gigs. Antti had also played in a death metal-band Tormented and keyboards in Yearning for a couple of months. Panu had played in several short-lived projects.
At first the band played mainly Paradise Lost- and Black Sabbath -covers. Later in the autumn they started playing their own material, which was influenced by Paradise Lost, Anathema and Sisters of Mercy, but still original gothic metal.
In January 1997 the band went to AKAAN MR-studio to record their first demotape. The demo was recorded in a hurry but it still got a good response. It has sold about 200 copies. A very talented guitarist Jarno Keskinen played a few guitar solos on the demo as a session musician.
In March Jouni Jormanainen joined the band as a permanent member although he had been playing as a session keyboardist on the demo. Jouni plays keyboards also in Absent Silence and drums in Frozen Stream.
In May the band played their first gigs in Riihimäki. They had composed a few new songs and got a good response on the gigs.
In July another guitarist named Juhana Stolt joined the band. He had played In an older metal-style project that didn't have a name so far.
In summer 1997 the band played only a few gigs. This was partly because of the fact that Ari and Panu were in the army.
In September the band got another vocalist, Janne Rämö, who had previously sung in Yearning. Now the line-up was full and the band could perform harmonized vocals live too.
In November the band had a small tour in southern Finland. At the end of November the band went to ROCKVALLI-studio in Tampere to record four tracks for their upcoming cassette ep Black Streams.
Black Streams -EP was released in January '98 via Succubus Records. Let Me Dream and Medieval Art organized a "Succubus Tour" (6 gigs in Finland) in late spring '98.
In June '98 the line-up went through major changes. Janne Rämö, Ari Haapanen, Juhana Stolt and Jouni Jormanainen don't play in the band anymore. Antti Ahonen, the songwriter and former of the band started playing guitar too. Pate Heinonen joined the band as a second guitarist and Jari Koskela of Let Me Dream became a new keyboard player. After the departure Jouni Jormanainen joined Yearning.
In July '98 Jussi Juselius joined the band as a new drummer, because Panu Lavonen moved to Lappeenranta in the other side of Finland for his studies. In the same month Antti Ahonen went to pursue his military service which took a whole year and brought many difficulties for the bandwork and especially the gigs.
In October '98 Medieval Art went again to ROCKVALLI-studio and recorded their new CDEP "Cold Dawn". Recordings went very well. "Cold Dawn"-lineup was Antti Ahonen (Vocals, Guitars, Bass), Pate Heinonen (Guitars), Jari Koskela (Keyboards) and Panu Lavonen (Drums). Later the same year Jukka Koskinen joined the band as a new bass player, and Pate Heinonen decided to continue his studies in Savonlinna leaving the band. After that Janne Rämö rejoined the band as their new live-guitarist.
The first half of the year '99 was very quiet for Medieval Art because of Antti's military service, but the band did a few gigs in spring. In May Jussi Juselius and Jukka Koskinen decided to leave the band. Panu Lavonen rejoined the band in summer, and their new bassist is Jani Loikas from Hyvinkää (from Nocturnal Winds).
At the moment, the band is going to release "Cold Dawn" very soon and planning new gigs and a video in Autumn.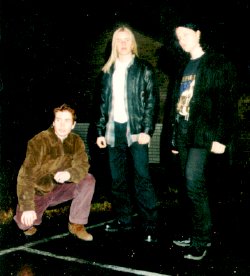 The original line-up in 1996.
---

Copyright © Reverie Design 1998-2000. All rights reserved.

---